Career Center
Big Interview: Practice Your Interview Skills

The Hampton University Career Center is partnering with Big Interview to provide an online system that combines training and practice to help students become confident during interviews!
The system provides information on interview basics which covers the types of interviews you can expect to encounter from hundreds of industries. Additionally, students can video tape themselves to get a visual of how they performed during the interview. The step-by-step process provides sample interview questions and answers in a straight forward approach.
Big Interview covers most of the commonly asked behavioral interview questions as well, including those on teamwork, leadership, and conflict resolution. Also included is a "Playbook for Common Challenges" which job seekers encounter when they transition to the workforce. It contains info on transitioning from the military, English as a second language, and much more.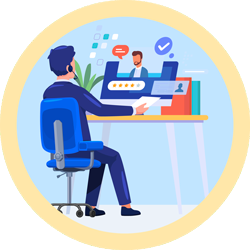 How To Register
Here's how to set up your Big Interview account:
STEP 1: Go to https://hamptonu.biginterview.com/ and click "Register".

STEP 2: Enter your name, HU email address, create a password, and click "Create my Account".

STEP 3: Log in and start using Big Interview.